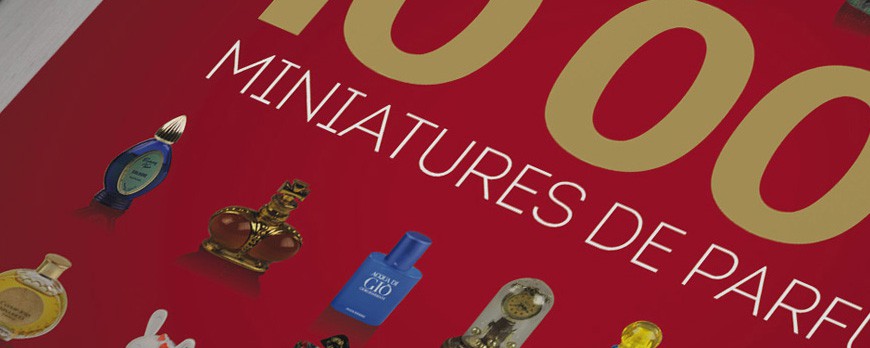 The book 10000 miniature perfume bottles by Jean-Michel COURSET
Almost twenty years ago, the book "5000 Miniatures de parfum" (5000 miniature perfume bottles) was published and became the first price listing for miniature perfume bottle collectors. For the first time, collectors of these little bottles had a serious reference and estimation handbook as do philatelists, numismatists, deltiologists and other collectors. This book was followed by two others, the "6000" and "8000", the latter, published in 2001, is now out of print and fetches sky-high prices on the second-hand market (€180 and over). Meeting the needs of collectors had become a matter of some urgency. It has now been done, with the publication of this exceptional handbook that goes even further than its predecessors, listing over 10,000 pieces, miniatures, samples, solid perfumes and other perfume-related products.
The photos mostly include the box, which is useful for correct identification. Thanks to the work of Jean-Claude Gélinier, all the pieces are now identified with a unique and definitive reference. With the "10000", you will not only own a beautiful book, the largest compilation of iconography on the topic, you will also hold in your hands an essential tool to manage your collection, your purchases and your exchanges. - 10400 products photographed, referenced, described and rated - Close to 500 pages in colour - An essential tool for your collection or to simply enjoy the pictures.
A multilingual work:

This book is written in French, but since 90% of it is photographs and brand names, it is easy to use no matter what your mother tongue. A multilingual index of abbreviations used in descriptions enables the handbook to be read by collectors around the world.
Paperback
Publisher: Forum cartes et collection (15 April 2016)
Language: French
ISBN-13: 979-1091841016
Pages : 496
Product Dimensions: 26 x 3.5 x 23 cm
You can order the book directly online, or at Amazon.co.uk
A renowned specialist of perfume miniatures for over thirty years, Jean-Michel COURSET is the author of several books for collectors. He has detailed knowledge of the market, on which he has worked for 20 years, and is also the author of "5000 miniatures de parfum", and co-author with Philippe Dekindt of "6000 miniatures de parfums" and "8000 miniatures de parfums", which are all out of print.

After completing his studies, in a completely different field (he is an engineer and holds a Master's degree in International Management), he held many different jobs, mainly in the collections and publishing sector. He now lives far from the city, in the Poitou countryside.
Posted on
05/18/2017
by
Home
2139